Seven to Five Co., Ltd.

Millimeter-wave signal transmission experiment using a drone
In this experiment, Seven to Five Co., Ltd. (https://seventofive.co.jp) installed a Fujikura 60 GHz millimeter-wave wireless communications module on a drone and flew it. During flight, the drone established high-speed data communication with another Fujikura module placed on the ground to measure transfer speed and verify radio wave directivity.
The 60 GHz-band radio waves used in this experiment are at higher frequencies than those typically used for operating drones, and have the advantage of being able to transmit large amounts of data, including images and high-quality videos taken by drones, at high speeds. In addition, this technology is expected to be used in applications that require high security because it has strong linearity, can reduce radio wave interference, and can limit the range of information transmission. Through this experiment, we successfully confirmed the communication coverage of the Fujikura 60 GHz millimeter-wave wireless communications module and its ability to transmit real-time video from the drone-mounted camera to the ground.
Benefits of using millimeter-wave wireless communication technology for drones
Real-time understanding of the situation at the shooting site is possible thanks to greatly reduced time lag in video transmission.

The linearity of radio waves in the 60 GHz-band enables communication only within a specific range, so information security can be improved, and this property can also further reduce outside radio wave interference.

Communication is possible even in places where traditional public communication carrier radio waves, such as LTE, may not reach, so it can be used anywhere.
Application of millimeter-wave wireless communication to drones that gather disaster information
When a disaster strikes, it is extremely important to be able to grasp the local situation quickly, safely, and in real time. Therefore, deploying drones to sites to collect disaster information instead of relying on human efforts has become highly anticipated. However, there are concerns regarding radio interference risks due to congested communication lines in the disaster area and potential damage to infrastructure while gathering and transmitting information reliably to relevant organizations. By equipping drones with millimeter-wave wireless communication functions, it will be possible to obtain information on disaster areas safely and quickly, and to formulate relief measures and measures to control the spread of damage based on the obtained information.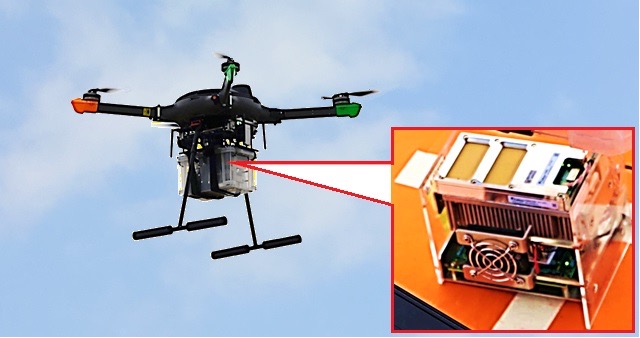 Figure 1:Fujikura 60 GHz millimeter-wave wireless communications module mounted on a drone
Figure 2:Drone flight communication experiment equipped with a Fujikura
60 GHz millimeter-wave wireless communications module