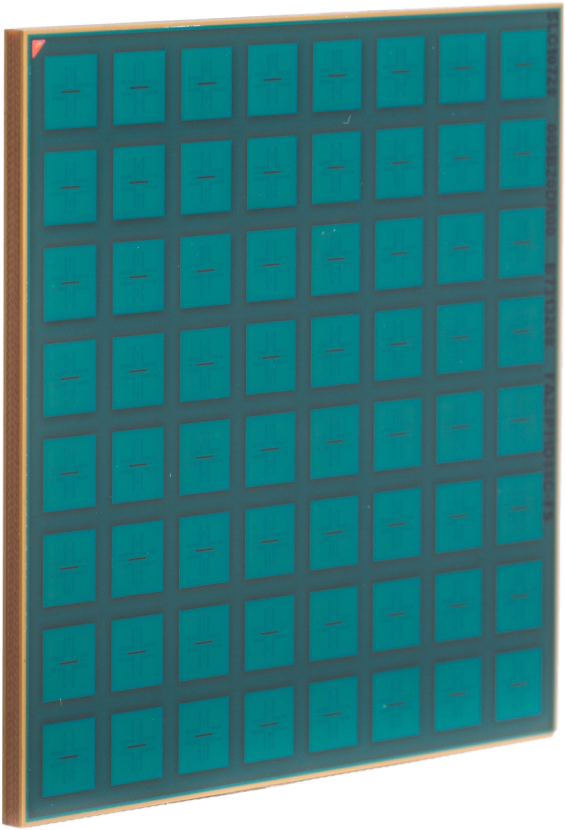 Fujikura's state-of-the-art 5G Phased Array Antenna Module: FutureAccess™
Support of n257/n258/n261
Phased Array Antenna Module with integrated RF functions
Sufficient TX output power required of base stations with high efficiency and low-power consumption
Accurate beam steering with fine resolution by True-Time-Delay–Type phase shifters
Brochure Download
USAGE IMAGE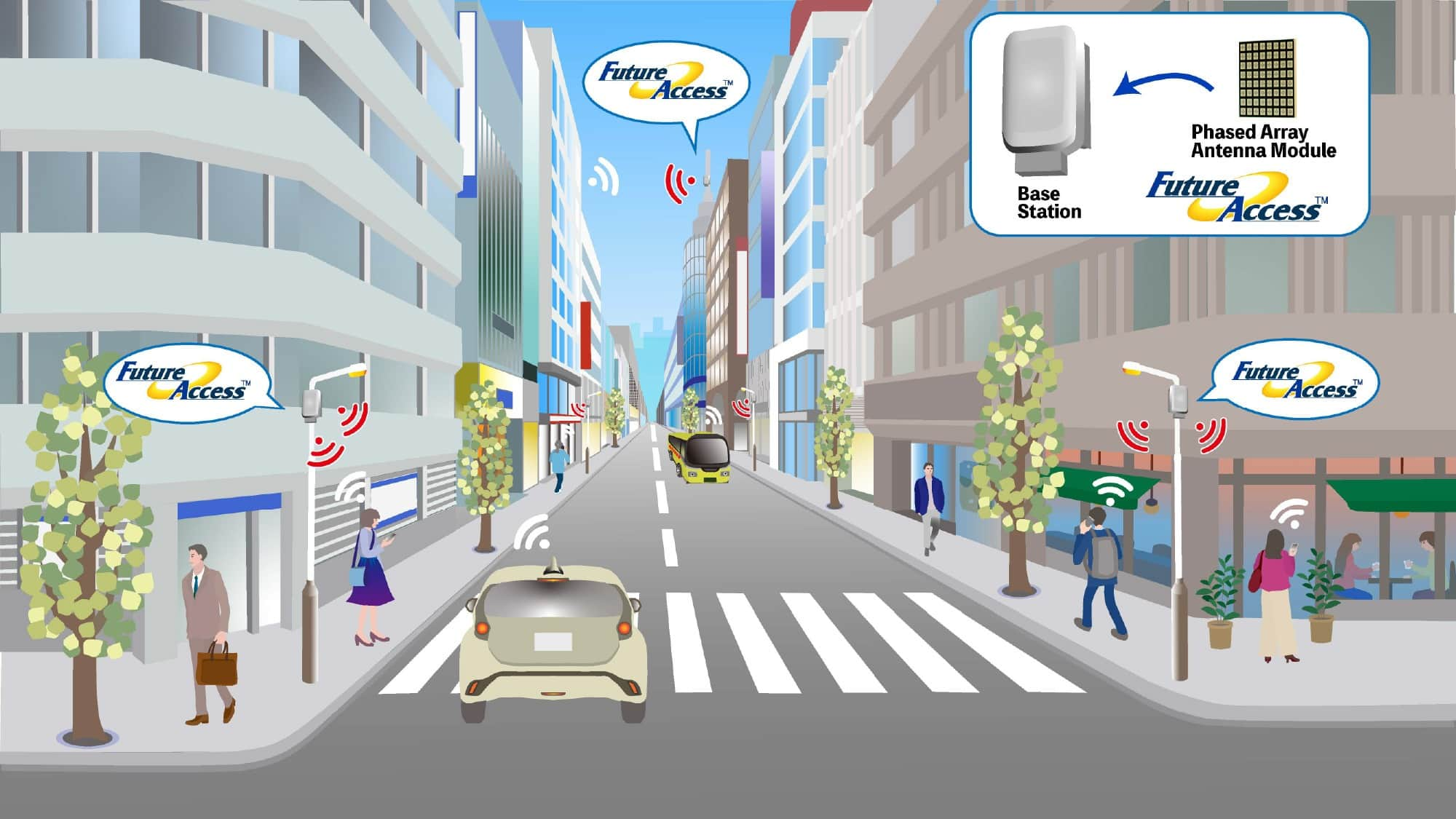 ENTERING 5G MILLIMETER WAVE INFRASTRUCTURE MARKET
28 GHz Phased Array Antenna Module: FutureAccess™
28 GHz Phased Array Antenna Module: FutureAccess™
We commercialize Phased Array Antennal Module (hereafter, "PAAM") FutureAccess™ for 5G millimeter wave (hereafter, "mmWave") communications operated on the 3rd Generation Partnership Project (3GPP) frequency bands: n257 (28 GHz), n258 (26 GHz), and n261 (27 GHz).
Fujikura PAAM is equipped with proprietary RF-ICs developed-in-house.
This module is a highly integrated module with beamforming IC, frequency converter IC, array antenna and filter.
Fujikura has designed all the components in-house and has been optimizing the performance of the module.
The module can support tens of thousands of beams with quick beam switching and provides calibration-free precise beam scanning. The module is mainly developed for infrastructure purpose and is suitable for various applications such as mobile network access (MWA) and fixed wireless access (FWA).
We have started to provide evaluation boards.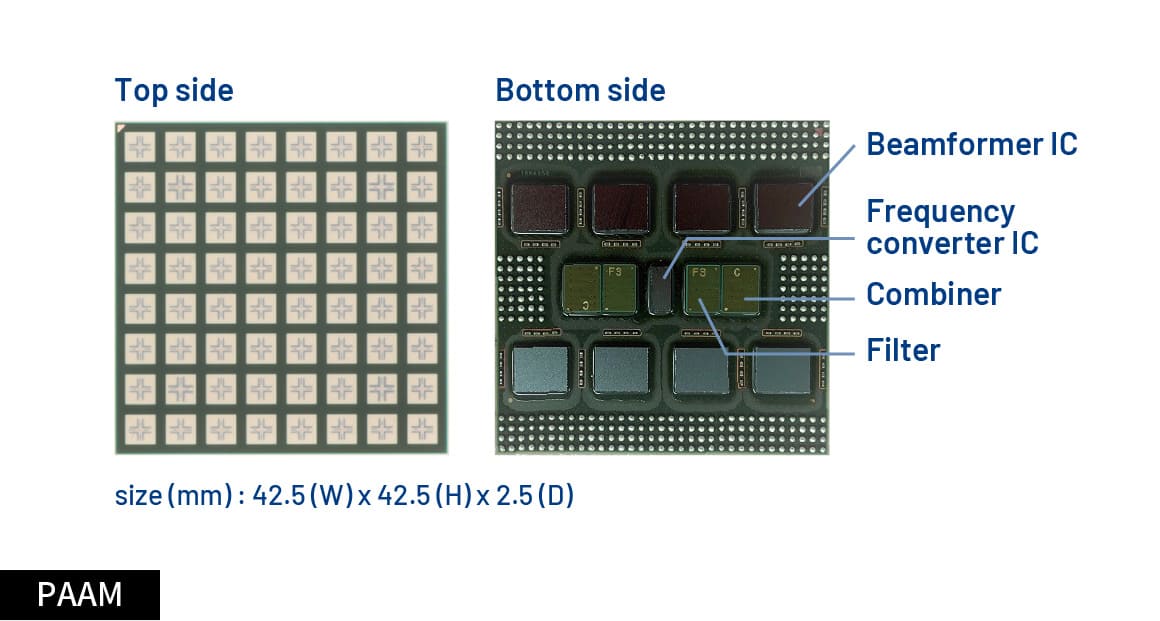 USER'S BENEFITS
PAAM with integrated RF functions provided
by us will reduce
the development burden and time to market of
user's base station equipment.
PRODUCT FEATURES
Feature -

1

High-precision, high-resolution beam steering control by True-Time-Delay-Type phase shifters

Fujikura PAAM provides a high-quality communications environment with no dead spots throughout base stations area by accurate beamforming.

Feature -

2

Sufficient TX output power required of base stations with high efficiency and low-power consumption

Fujikura PAAM simplifies the thermal management of base stations, therefore enables miniaturization and cost reduction.

Feature -

3

Flexible tuning for the noise figure and linearity of receiver

Fujikura PAAM enables flexible settings depending on various location conditions of base station from macrocell to microcell.

Feature -

4

Supporting dual polarization in both transmission and reception

Fujikura PAAM transmits and receives the signals in both horizontal and vertical polarization. This contributes to miniaturization and cost reduction of base stations.
We supply PAAM having these features and will contribute to rapid expansion
of 5G areas and greater satisfaction of end-users.
Block diagram of Fujikura PAAM

Conceptual diagram of PAAM substrate
Development Platform

Fujikura and Avnet, Inc. (Nasdaq: AVT) have released 28 GHz Phased Array Antenna Module:PAAM "FutureAccess™" development platform for mmWave frequency bands.
This platform enables customers to develop advanced 5G mmWave systems using Fujikura's PAAM and AMD's Zynq™ RFSoC* Gen3, controlled by Avnet's proven RFSoC Explorer® software. This combination of leading-edge components and software will allow customers to prototype quickly with Fujikura's compact PAAM and AMD's RFSoC.
Avnet's RFSoC Explorer® software, included with the development platform, is scalable to control the entire system from the antenna to digital and is an easy-to-use MATLAB application that allows you to quickly implement and test beamforming applications without HDL* or software coding.
*RFSoC: RF System on Chip, AMD FPGA device with built-in 8ch A/D and 8ch D/A and Arm CPU core
HDL :Hardware Description Language
Brochure Download
5G communications networks mainly use two types of frequency bands: Sub-6 GHz frequency bands of less than 6 GHz and mmWave frequency bands such as 28 GHz. Both access networks and backhaul networks requiring ultrahigh speed communications mainly use mmWave to increase communication speed. However, higher propagation loss of mmWave frequency compared to the Sub-6 frequency narrows the transmission ranges. As a result, base stations using mmWave frequency bands shall be used mainly for small cells covering several hundred meters areas in maximum, not for conventional macrocells covering about several kilometers area. Therefore, they must be deployed at high densities.
5G Network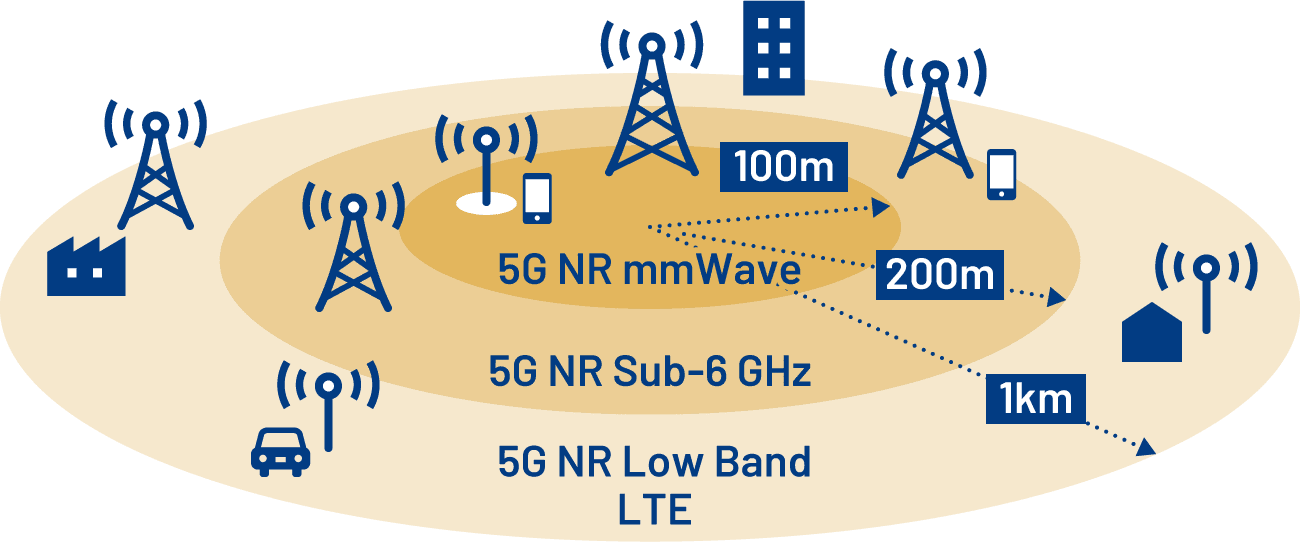 Fujikura's own True-Time-Delay system has allowed PAAM to control the gain and phase of signals individually and also brought some distinctive features as shown in the table below. For example, the module can emit a beam at a desired angle by a simple calculation without calibration.
This makes it possible to direct the beam at a target to communicate instantly without any blind spots.
Independent gain and phase control
FEATURES
DESCRIPTION
Phased Array Antenna Module (PAAM)
Benefits customers by offering optimal TCO and reducing development time
・Is available as complete module containing BFIC, FCIC, filter and antenna
・Operates at 24-30 GHz and covers n257, n258 and n261
・Is highly integrated to support concurrent dual-polarization for Tx/Rx
Calibration- free operation
・Enables easy digital setting for prescribed performance by individual gain/phase control
・Eliminates the need for individual calibration
Low signal distortion in beam directions
Maintains beam shape in beam directions and wide frequency range by True-Time-Delay phase shifter
Fast and precise beam-steering control
Supports ultra-fast access in 65,536 beam directions by advanced on-chip calculation mode
Superior digital reconstruction
Allows flexible trade-off between NF and linearity
Low power consumption and high power efficiency
Optimization
Low ACLP
RF filtering with high-Q on-board filter

POTENTIAL OF MMWAVE COMMUNICATIONS
mmWave Realizes Gigabit-class High-speed Communications
To rapidly transmit and receive large amounts of data at once, it is essential to increase communication speeds. The use of broad frequency bands is one method for increasing communication speeds. At present, the Ultra-high Frequency (UHF) bands, or so-called centimeter wave bands, are used for communications. However, these frequency bands are divided up for use in various applications. This makes it difficult to secure broad frequency bands.
For example, 3GPP, has assigned the sub-6 GHz frequency bands and the mmWave frequency bands including 28 GHz for 5G. In the sub-6 GHz frequency bands, n77 and n79 have relatively narrow bandwidths of 900 MHz (3.3-4.2 GHz) and 600 MHz (4.4-5.0 GHz), respectively. In contrast, in the 28 GHz bands, n257 and n258 have wide bandwidths of 3 GHz (26.5-29.5 GHz) and 3.25 GHz (24.25-27.5 GHz), respectively. These broad bandwidths increase communication speeds dramatically to realize gigabit-class high-speed communications.
Frequency bands used in wireless communications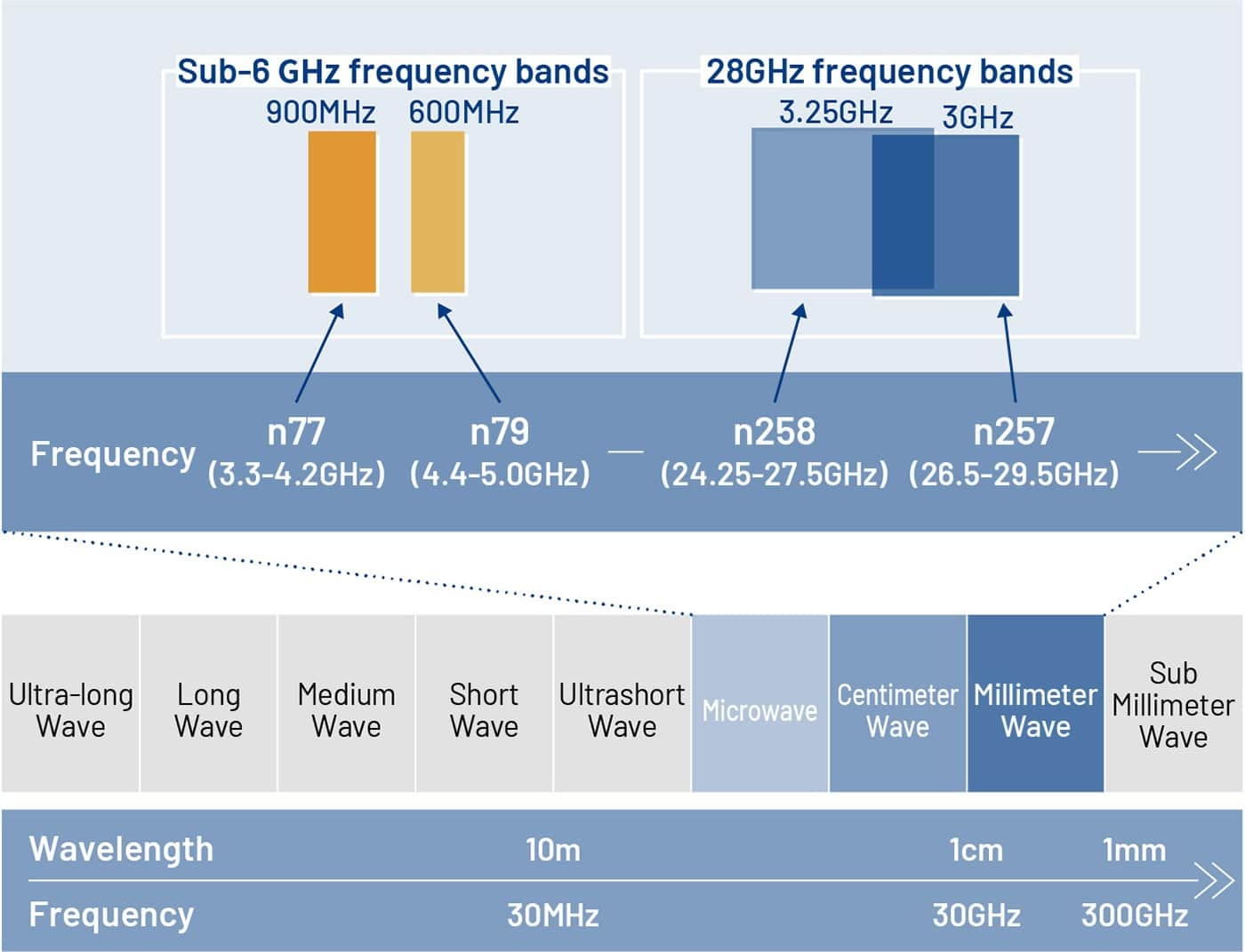 In the future,
Fujikura will contribute to building
5G mobile networks
and expanding relavant services by providing
PAAM to customers who are
promoting 5G infrastructure
construction around the world.