Pre-certified with a technical conformity
certification under the radio law in Japan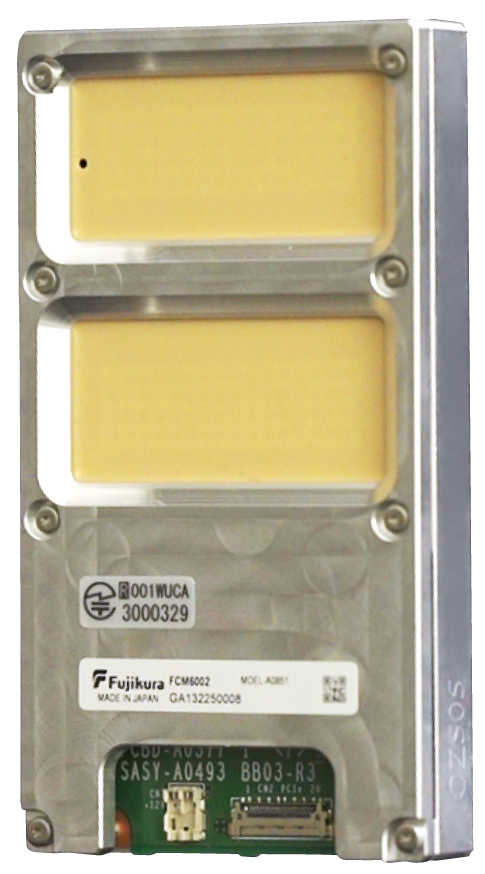 Fujikura's Cutting-edge 60 GHz mmWave
Wireless Communications Module
with Long Range, High Speed, Wider Coverage

Our mmWave communications technology revolutionizes the ICT industry.
Brochure Download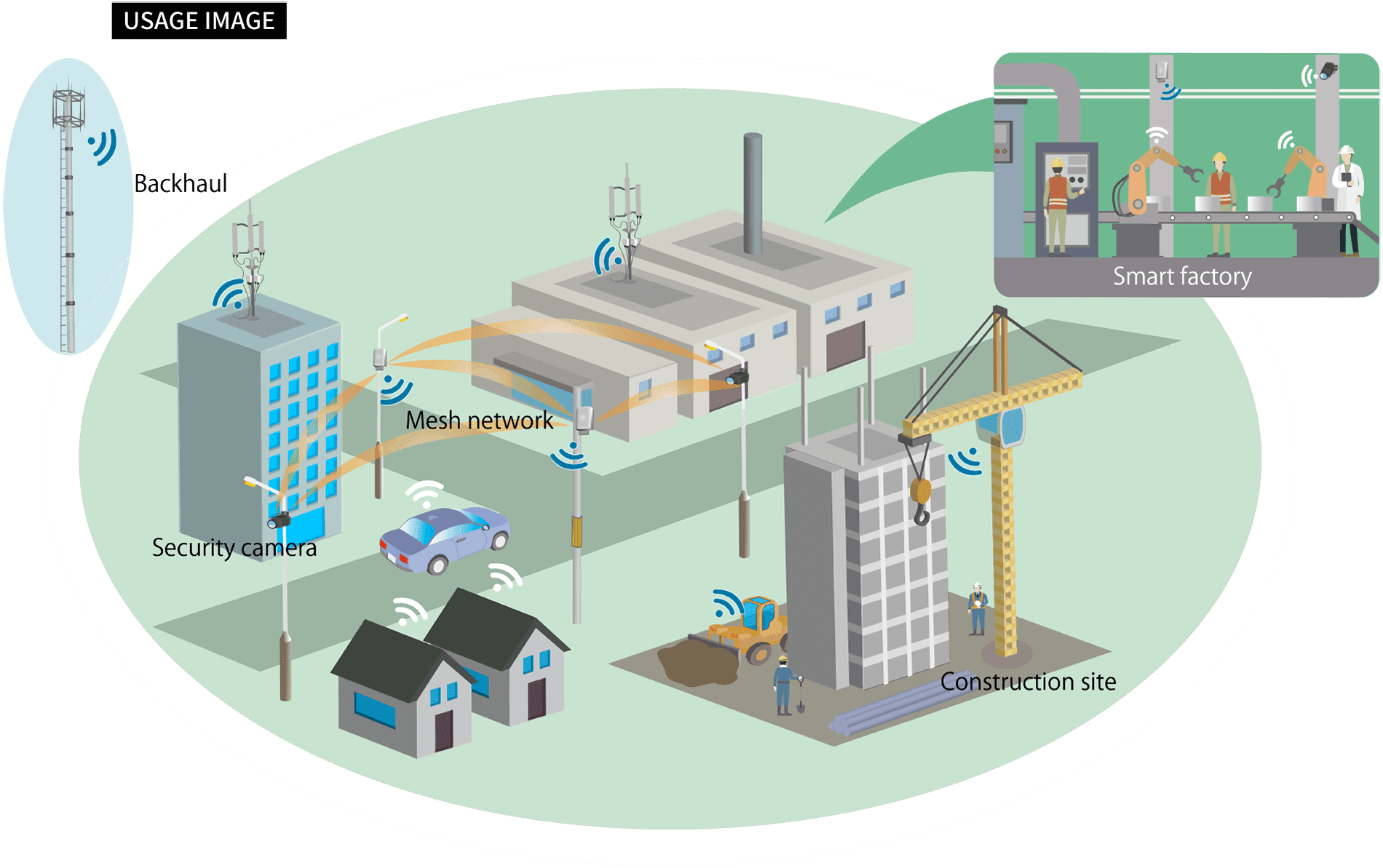 High-speed, large-capacity wireless communication systems have become an indispensable infrastructure in all fields as a driving force for building a smart society.
The 60GHz band millimeter-wave (hereafter, "mmWave") wireless system is license-free,low cost and facilitates building high-speed networks compared to licensed wireless communication systems such as 5G and local 5G systems.
The 60GHz system provides the best solution for customers who aim to achieve the following objectives:

・ Establishment of high-speed, wide-band private communication network
・ Smartification of various construction sites, workplaces, and commercial and industrial facilities
・ Transmisson of high-definition, low-delay images
・ V2X communication in public transportation (e.g. buses, trains) and various industrial vehicles
・ Building of wireless backhaul, wireless mesh networks

Fujikura develops a built-in mmWave wireless communication module for these 60GHz band wireless communication systems.
This module can be independently certified for Technical Regulations Conformity Certification in Japan, which does not require a license. For commercial products, the similar certification required in other countries will be obtained, such as FCC (USA) and CE (EU).
PRODUCT INTRODUCTION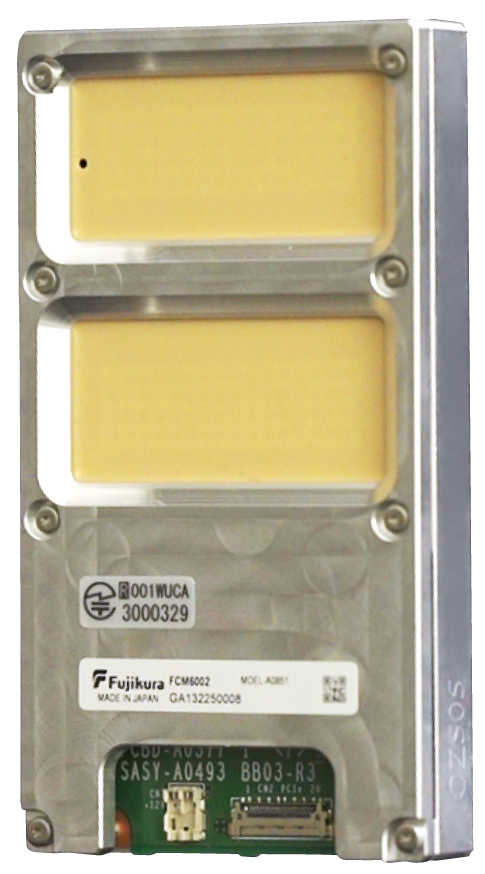 size(mm):62(W)x113(H)x17.4(D)
60 GHz mmWave Wireless Communications Module
Fujikura provides compact embedded 60 GHz mmWave wireless communications modules using a high gain phased array antenna. These are capable of achieving high-speed wireless communication in the 60 GHz frequency band. Their compact design combines a baseband wireless modem function and an antenna with an included RF front end function.
The mmWave bands are susceptible to large transmission losses due to wiring. Therefore, the wiring between the RF-IC and antenna must be as short as possible in order to maximize the features of the wireless communications module. High efficiency communications can be achieved through the selection of low loss materials for the circuit board and modularization of the RF-IC and antenna.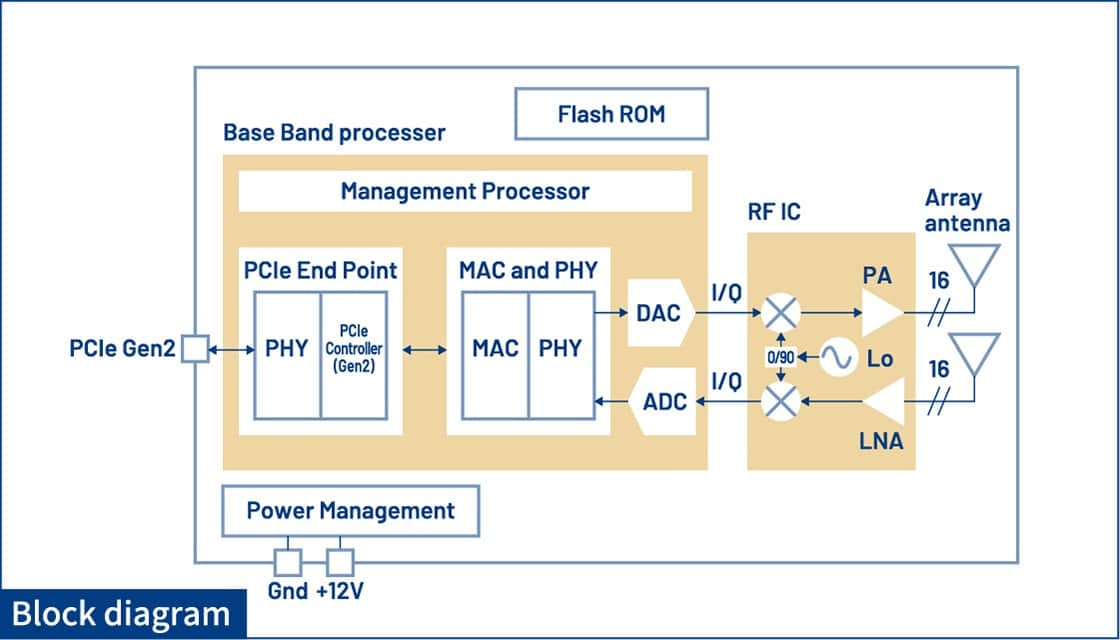 This module has features such as
"high transmission output power,"
"flexible channel bandwidth," and
"high-order modulation support,"
satisfying the technical standards of each country.
The main specifications are as follows:
Comparison of module specification

Fujikura
Vendor A
Vendor B
RF frequency
57-71GHz
57-64GHz
57-64GHz
Channel bandwidth
0.55/1.1/2.2GHz
2.2GHz
2.2GHz
Modulation method
BPSK to 64QAM
BPSK to 16QAM
BPSK to 16QAM
Data speed
〜4620Mbps
〜4620Mbps
〜4620Mbps
Overall transmission output (P1dB)
20dBm
10dBm
14dBm
Antenna gain (beam angle)
22dBi(boresight)
>19dBi(+/-45deg)
N.A.
N.A.
In-house investigation as of Jan. 2020
PRODUCT FEATURES
Feature -

1

Long distance high capacity transmission

Low loss LCP materials and high output RF-IC help realize world-class mmWave band communications over distances of 500 m at 2 Gbps.

Feature -

2

Broad coverage

The unique design of the 16-element phased array antenna makes possible automatic beamforming over a wide angle of ±45 degrees.

Feature -

3

Wide band

Wideband antenna achieves full coverage of the 57 to 71 GHz frequency bands

Feature -

4

Multiple connections

High wireless control technology makes it possible to automatically connect up to 30 devices (max) on the customer premises to a single access point.
Sample
Fujikura provides 3 types of samples for evaluation of the 60GHz wireless communications module.
Communications module
(COM Module)

System development kit
(SDK)

Outdoor evaluation kit
(ODK)
The SDK & ODK are evaluation kits equipped with COM Module and Gigabit Ethernet interface.
You can easily evaluate actual network performance using SDK & ODK.
Try out our samples!
USE CASE
Millimeter-wave signal transmission experiment in coach of railway



Autonomous driving support demonstration experiments in Shiojiri City



High-speed communication experiment in safe driving support demonstration using local bus

Millimeter-wave signal transmission experiment using a drone


PRODUCT TECHNOLOGY
Point.1
RF-IC Design that Optimizes its Performance and Maximizes Output Power
This module employs a low loss multilayer LCP circuit board material and its layout design that optimizes RF-IC performance for even higher output. This allows the module to achieve world-class long-distance transmissions.

・The figure below shows loss per 100 mm in a microstrip line(MSL).
・The dominant source of loss in mmWave communications is the dielectric. So we selected a dielectric material with as little loss as possible.
・LCP caught our attention because of its superiority as both a low loss and low-cost material.
Superiority of LCP material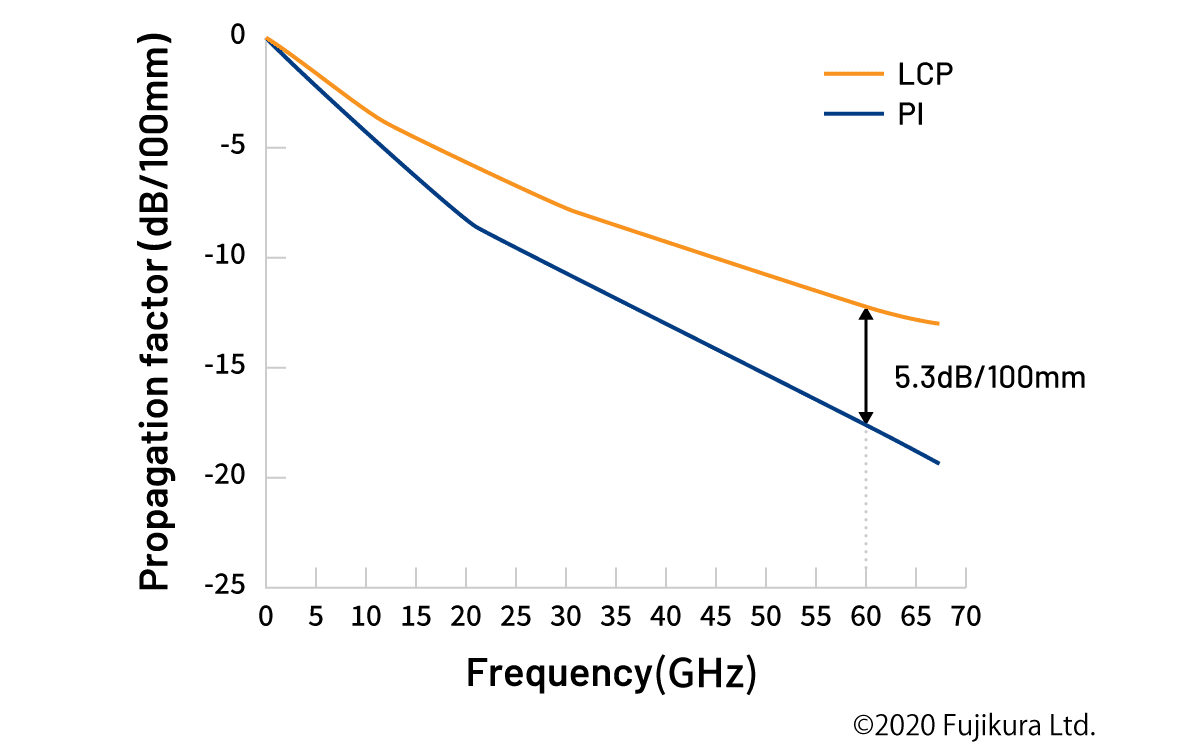 Transmission losses in mmWave communications can be large,
making it necessary to connect the RF-IC to the antenna with the
shortest possible wiring using low loss materials.
For this reason, the module adopts a structure that combines an RF-IC with an antenna comprised of a wiring pattern on the circuit board, in an integrated module.
Integrated Module.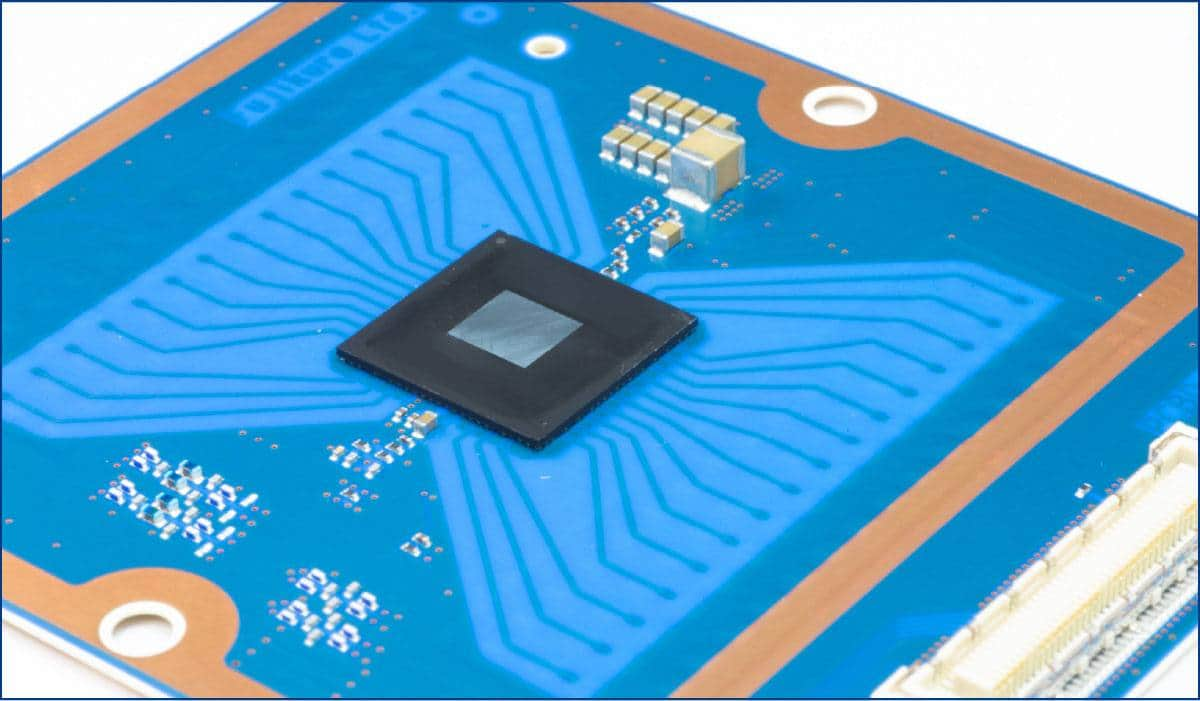 Point.2
Antenna Design Maximizing High-frequency-band Performance
Fujikura's original antenna design and electromagnetic field analysis technology led us to develop a 16-element phased array antenna. It not only makes possible stable wide angle ±45 degree automatic beam forming, but at the same time achieves long-range transmission that fully covers the 57 to 71 GHz frequency band.
Beam forming characteristics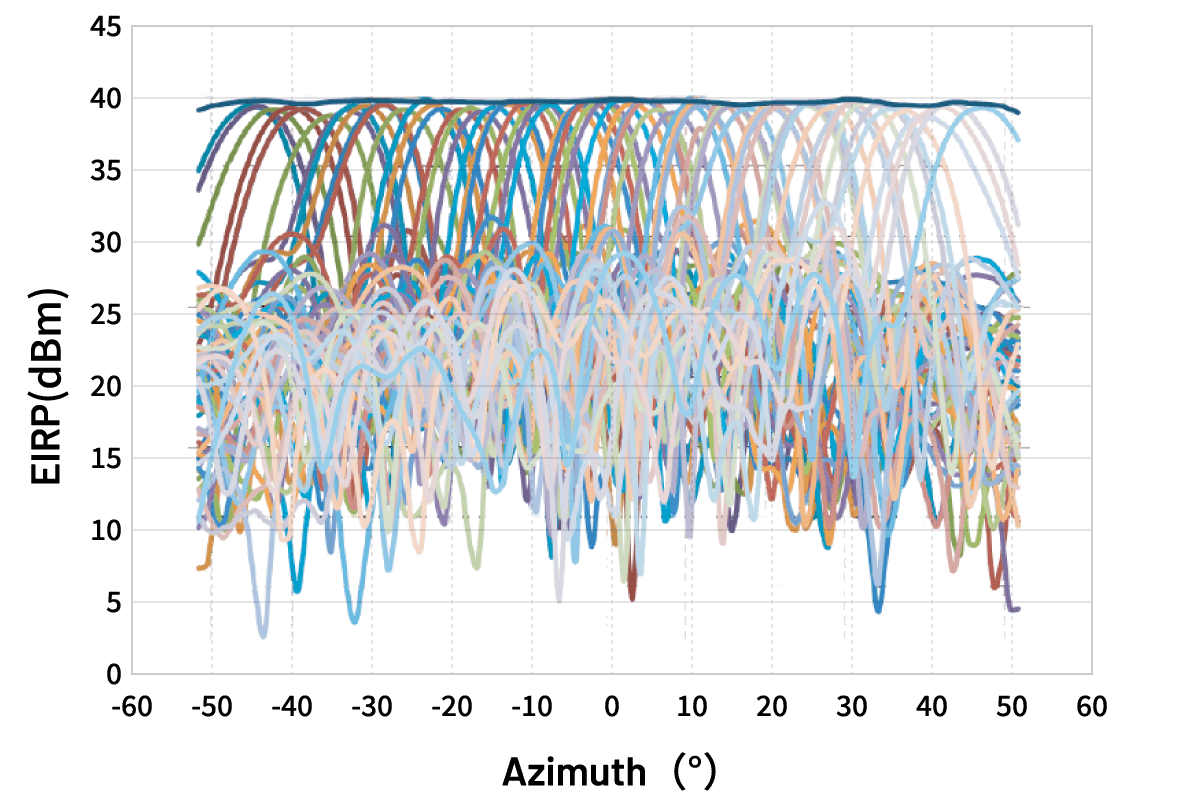 Antenna band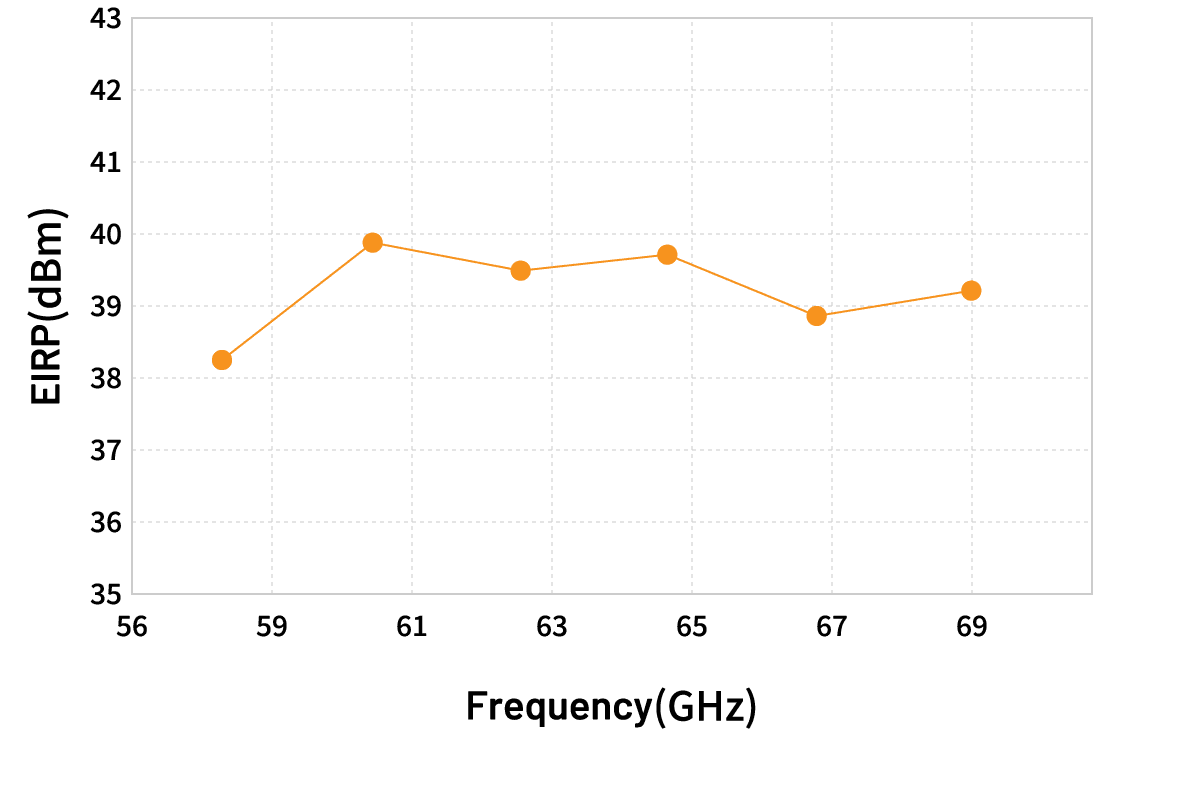 POTENTIAL OF MMWAVE COMMUNICATIONS
mmWave Realizes Gigabit-class High-speed Telecommunications mmWave Realizes Gigabit-class High-speed Telecommunications
In order to rapidly transmit and receive large amounts of data in a short time, it is essential to increase communication speeds. The use of broad frequency bands is one method for increasing communications speeds. At present, the Ultra-high Frequency (UHF) band, or so-called centimeter wave band, is used for communications. However, this frequency band is divided up for use by various applications. This makes it difficult to secure broad frequency bands.
For example, the 2.4 GHz and 5 GHz bands used by Wi-Fi are limited to bandwidths a mere 0.5 GHz wide or less (See 1 in the figure below). In contrast, few services have yet been allocated space in the mmWave band. This makes it possible to secure broad bandwidths. The 60 GHz band offers bandwidths of 9 GHz in Japan and 14 GHz in the US (See 2 in the figure below). These broad bandwidths offer communications speeds that are an order of magnitude faster than those of today. This will enable gigabit class high speed communications.
Frequency bands used in wireless communications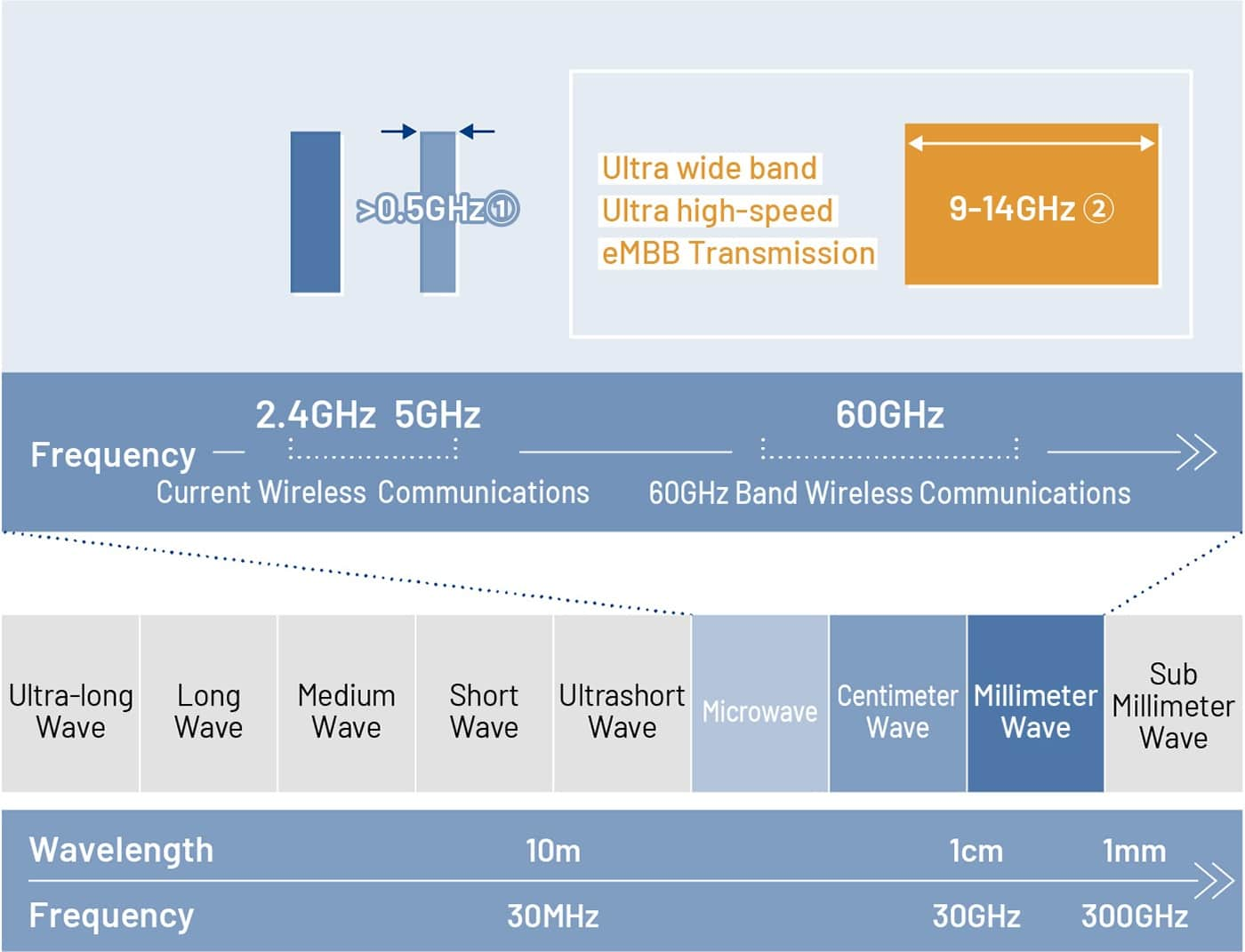 "Free, easy and reliable gigabit wireless communication"
Fujikura's 60GHz wireless communication module
provides enterprise customers with new value
beyond their imagination.